One day at Camera Camp (otherwise known as an RMSP Workshop), we visited the little town of St. Ignatius on the Flathead Indian Reservation. Our main goal for this field trip was to visit and photograph the St. Ignatius Mission. As the church is rather small, we broke into two groups, so we could limit our impact inside.
I was in the group to go inside second, so I wandered over to the nearby skatepark to shoot some photos, while waiting. It was amazing. The kids there were happy to let us shoot them skating, and they ended up doing tricks for their audience, which we loved. I shot several hundred photos (love my new Nikon D7000 camera, with 6 frames per second) in my short time there. These kids were truly inspiring.
And it wasn't until putting this post together that I learned that this skatepark itself is an inspiration, and is saving lives. More after the jump…
The more experienced skaters encouraged the newbies as they practiced their tricks. All were impressive.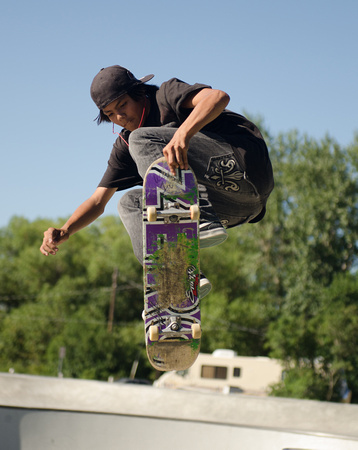 This guy was top dog in the skatepark the day I was there. He made everything look easy.
Could you look more relaxed doing this?
After finishing his trick, this guy stood around and encouraged others, before heading back around for another run. It was nice to see.
And the newbies were fearless – or at least brave in pursuit of getting better.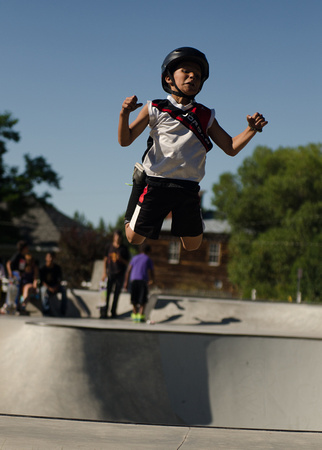 "Feel the fear, and do it anyway." This little guy was still learning how to land, but he sure got big air.
This guy nailed his landing.
This guy was also pretty amazing.
It wasn't until writing this post that I dug up the history of this skatepark. The foster mom I spoke with when I was taking photos told me that it had been built recently, after much fundraising and support by the community. Cool. It was built by Dreamland, one of the big names in skatepark development. Also cool.
But the story of why it became a rallying point for the community and got constructed at all is both tragic and an inspiration. The must-read full story is here, on Skate Ignatius' website, but in short, it was in response to the tragic loss of several young boys who drank themselves to death. It sounds like it was thanks to the action of one Kristie Nerby (a local resident), who picked up the torch to create a positive recreational outlet for kids in St. Ignatius that this skatepark made it's way to reality. I never thought I'd think it, but in this context, skating saves lives.
And why not – there's definitely joy here.
Happiness on landing his latest trick.
And it puts the one image that I took and liked from inside the Mission in perspective. While these candles were certainly someone elses prayers, I'll think of them as a memory of the young boys who didn't have this skatepark to find their joy.
Prayer candles
I take inspiration from Ms. Nerbie, who I've never met and only just read about. And from these kids who push themselves to try new things.
~
Bryan