As any of you who check my blog regularly, you'll have noted that I don't post too regularly. I'm hoping that's going to change, as I've taken a great leap forward in both skill and inspiration, thanks to my week at "camera camp" as a friend at work called my long-awaited week away. (Looking at you Nancy!)
Actually, I spent the week at a Rocky Mountain School of Photography (RMSP) workshop. In short, I loved it. We covered a lot of technical ground, but more importantly we went out and shot photos after each lesson and then had helpful critiques of our work. Another unexpected treat was coming away with a whole new batch of friends. (More calendars to print!) I miss them already (particularly my field trip buddies, Shelley and Darryl). Collectively, there was so much talent in the room. Seeing how everyone came away from the same shoot with such different images was both refreshing and reassuring.
Anyhow, let's travel back in time a bit, shall we? For one of our assignments, we traveled to Garnet Ghost Town, about a little over an hour outside of Missoula Montana (where we had camera camp), to practice some of our new skills. For this assignment, we were challenged (and believe me – it was a challenge!) to take a series of photos of one thing. We each interpreted this a bit differently, but I have to say that the beauty of what everyone captured was simply amazing.
After poking around the grounds, with a number of small log cabins, dry cellars, outhouses, and other buildings you'd have found in a mining town circa 1898, I landed in the backroom of the 2nd floor of what used to be a hotel.
As if through the haze of time, this long-abandoned room shared some of its stories.
More after the jump…
It took me a while to warm up to this assignment. As many of us struggle with, I let some self-doubt creep in, and thought I had no ideas for what to do in this room. But I spent time, I relaxed, as Tony (our amazing instructor) encouraged me to do, and I just enjoyed playing around. (Tony has been with RMSP for a decade or more, but he also has his
own company
, for those photo geeks out there who might appreciate supportive critique. I can't say enough good about him.)
So, here is how this old hotel room spoke to me.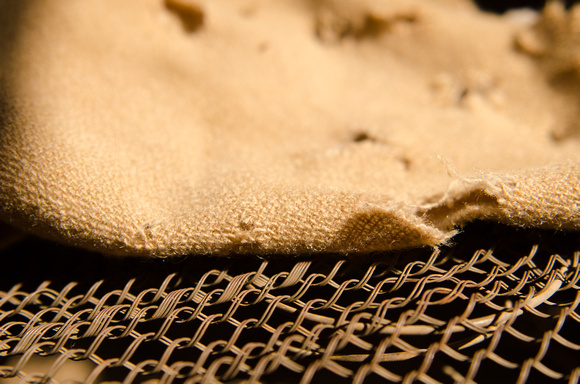 Textures
More textures
Some faces of the past?
Seriously playing around now.
This was already cracked before I took my picture in it. I swear.
I seem to have not really thought through when Tony told me that the past number of times he'd been in this room, there had been a bird in there. I didn't see one, and I really didn't take note of many bird droppings. So, after taking a bunch of shots of these old boots, I got down on the floor to take some more. This last one was my favorite. (You were right Tony.) I quite like it. Even if I did risk hanta virus or worse.
Boots eye view. Or would that be birds eye view?
I did explore more than this room. I spent a good bit of time on my second set of images, which I pretty much thought were crap. Still, I practiced a number of things, including patience. Funny – given my past as a educator, and some of the crazy folks I have to deal with in my day job, I sort of thought I had a lot of patience. This assignment taught me I could use more. Perhaps its the context. One of the things I hope to hold onto from this week's work, is to take my time with shooting.
Here's one last shot from the ghost town that I really liked. Another photographer in my workshop, Natalie, whose work is amazing, was also inspired by this trunk. She took a series of shots of an old briefcase on a table in some room in the town that were simply gorgeous. If she posts them somewhere, I'll be sure to link to them.
A trunk in one of the outbuildings in camp.
So – I guess the lesson from the past is, if you listen, it will speak to you. If you have patience.
Here's wishing you patience in your lives.
Bryan
~~~~~~~~~~~~~~~~~~