Me visiting the snow monkeys outside of Shibu Onsen.
Bliss is about all I can say about this first day of February, 2011. Our amazing hosts at Matsuya Ryokan (a Japanese Guesthouse) took me and several others up to the trail head that leads to what I call the monkey pools. A walk through a lovely forest…
Afternoon light on the mountains across from the trail leading up to the monkey pools.
… leads to a spot on the Yokuyu River where hot springs (onsen) are channeled to some pools placed her specifically for the snow monkeys. It's about an hour so into the mountains from Nagano, Japan, where the 1998 winter Olympics were held.
Ok – let's just get this out of the way upfront: the "Snow Monkeys" of Jigokudani Yaenkoen are not exactly wild. But they're not exactly tame either. They are fed by humans (the rangers in this National Park) and they hang out in the pools created for them – but that's because they started invading hot spring pools that humans were using in the nearby onsen villages back in the 1960s. It was either make them a place of their own, or forever 'suffer' their invasion. (Continued after the jump.)
It's simply impossible not to be charmed by these guys
While they are indifferent about humans, they are very much wild animals. In my rather amazing day watching these creatures interact, I saw parenting, cuddling, preening, fighting for dominance, bullying, and even a bit of sex. (Yes, really.) It's apparently breeding season in the winter here. Go figure.
I saw this guy bully several other monkeys. At one point, he threw a baby out of his way. The crowd of humans was not pleased.
But mostly a visit to this corner of Joshin-etsu Kogen National Park is just plain fun. It brings out the kid in everyone. It's just amazing to watch these monkeys indulge in the hot springs, even when faced with hundreds of cameras pushed into their faces all day long. While I did get some great close ups, I mostly used my long lens to get the shots.
A close up
Still, I wouldn't feel too upset about the impacts by humans on the monkeys. There was a ranger present monitoring things, when he wasn't reading his book. I think he's there more to make sure people don't get hurt by the monkeys than the other way around. Some little ones literally ran across my feet when they were playing, hiding behind my legs as they chased one another.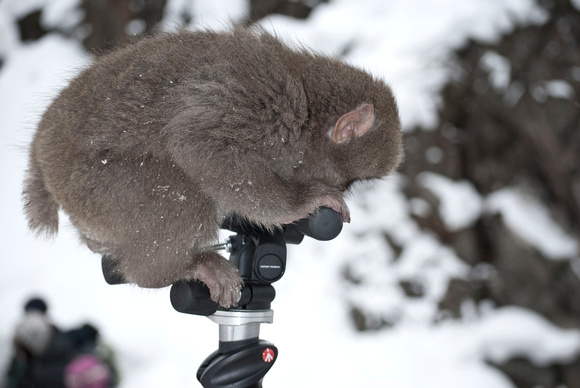 This little guy climbed up on my tripod, which I'd left along the fence for much of the day. He was playing around with other youngsters, when he got distracted, and climbed up for a look.
The same little guy chewing on the handles as he climbed up my tripod.
There are more fun photos of this amazing day, over at my Zenfolio gallery, and more photos of Japan will be up soon. Meanwhile, I wish you a day of bliss, in whatever form you find it.
~ Bryan